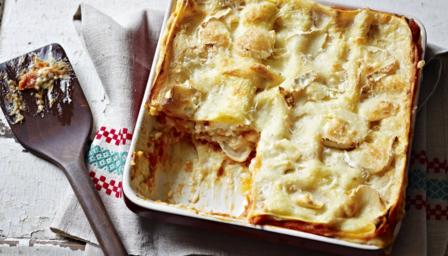 Ingredients
For the filling

150ml/5fl oz extra virgin olive oil

3 garlic cloves, sliced

1kg/2lb 2oz tomatoes, chopped

handful fresh basil leaves, torn

salt and freshly ground black pepper

For the béchamel sauce

125g/4½oz unsalted butter

75g/ 2¾oz plain flour

1litre/1¾pt full-fat milk, warmed

pinch grated nutmeg

For the lasagne layers

salt and freshly ground black pepper

300g/10oz goats' cheese, crumbled

50g/1¾oz pecorino, grated

250g/9oz fresh lasagne verdi sheets
Preparation method
For the filling, heat the oil in a saucepan and fry the garlic for 3-4 minutes. Add the tomatoes and simmer for 30 minutes.
Remove the mixture from the heat and purée in a blender or liquidiser until smooth. Season to taste with salt and freshly ground black pepper and set aside.
Preheat the oven to 180C/350F/Gas4.
For the sauce, melt the butter, add the flour and stir over a medium heat for 1-2 minutes. Gradually add the milk and stir for 5-10 minutes. Once all the milk has been added, add the nutmeg and season with salt and freshly ground black pepper.
Spoon some béchamel sauce onto the base of a 30cm x 20cm/12in x 8in baking dish. Spoon over some of the tomato sauce, then top with some goats' cheese. Complete the first layer of the dish with lasagne sheets.

Repeat the layering process in point 5. Finish by sprinkling over with any remaining cheeses and bake in the oven for 30-35 minutes, or until the cheese on top is bubbling and golden brown.