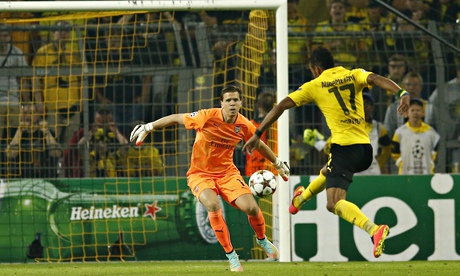 It was a night of awkward truths for Arsenal and by the time it was all done, it seemed like the irrefutable evidence of how far they have to go before they can be regarded as a team who are capable of making a serious impression on this tournament. It is some considerable distance on the evidence of this defeat, when Arsène Wenger's players were made to look so prosaic and should probably just be relieved Borussia Dortmund could not turn their superiority into more goals.
If Jürgen Klopp's team had been in a more ruthless mood, it is no exaggeration to say that Arsenal might well have been ruminating on one of their heaviest defeats in this competition. Between them, Pierre-Emerick Aubameyang and Henrikh Mkhitaryan had enough chances to make it an even more harrowing ordeal. Yet Wenger will have suffered anyway, such was the disparity between the two sides. The gulf seemed to grow even wider once Ciro Immobile had scored just before the interval and it really told only half the story that Dortmund restricted themselves to only more goal, courtesy of Aubameyang, in the second half.
Klopp's men also struck the crossbar in that period, again through Aubameyang, and Wojciech Szczesny spared his team more times than Wenger will probably wish to remember. Arsenal's inadequacies had been laid bare and Wenger will have to contend with more questions about his recruiting after a night when his defensive options were so thin he had a teenager, Héctor Bellerín, making his first start in their back four.
His only previous Arsenal appearance was as an extra-time substitute in a Capital One Cup tie against West Bromwich last season so it was inevitable that Arsenal's defence might have a vulnerable look. All the same, Dortmund had plenty of their own injury issues and Wenger must have been startled by the carelessness of his team at times. Too often there was one of his players waving an apologetic hand, or desperately trying to chase back after losing the ball in his own half.
Yet Wenger might also reflect that his side may actually have taken the lead before Immobile opened the scoring with the last attack of the first half. Unfortunately for Danny Welbeck, here was another demonstration of the occasionally raw state of his finishing. Arsenal's £16m signing missed the target after Aaron Ramsey's pass had left him with the chance to take aim, and a few minutes later the ball reached Immobile in the centre-circle and he showed him how it should be done.
The Italian deserves a lot of credit because he had a long way to go but Kieran Gibbs really ought to have got closer to Immobile as he drove forward, veering to the right-hand side of the penalty area. Laurent Koscielny could not cut out the danger either.
Immobile was too quick for them both and drove his right-foot shot diagonally across Wojciech Szczesny into the far corner.
That was Dortmund's 15th shot of the first half but their finishing had been poor for the most part and Szczesny had kept out Aubameyang with a smothering save when he had their best chance to open the scoring. Soon afterwards the same player put another good chance into the side-netting. Mkhitaryan wafted one shot over the crossbar from only eight yards and for long spells Arsenal were pinned back into their own half.
They did at least start to play with a measure of control in a 10-minute period midway through the first half, when Alexis Sánchez was denied a goal for offside and there were at least the first flickers that Arsenal could stretch the home side's defence. Yet there were other moments of carelessness. The early booking for Mkhitaryan, after trying to turn Mikel Arteta's challenge into the most duplicitous penalty, stemmed from a loose pass from Jack Wilshere.
Dortmund are a dangerous enough team without that kind of assistance and Klopp was probably entitled to think his team should have scored long before Immobile had made the visiting defence look, well, so immobile.
It was the same three minutes after the restart when Kevin Grosskreutz put the ball behind Per Mertesacker and suddenly Aubameyang had nipped in front of Szczesny to go round the goalkeeper. Perhaps Szczesny had over-committed himself when he could have hung further back, but Arsenal should actually be grateful to him for keeping the score down.
They looked short of ideas but they also lacked personality and more than anything, a robust defensive midfielder. Arteta has plenty of attributes but Arsenal need a different type of player. Mesut Özil stood out only in the briefest of flashes and Ramsey was largely over-run before Wenger substituted the pair of them just after the hour.